Courtyard Cottage, Gruline
Gruline Home Farm Gruline
Tel: 01680 300597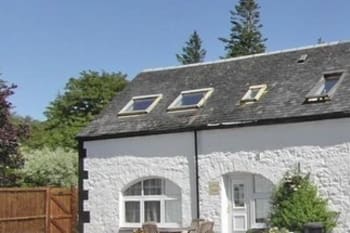 Courtyard Cottage is a very comfortable self-catering holiday cottage situated within the small hamlet of Gruline, just 2.5 miles from Salen on the Isle of Mull, the cottage is within walking distance of Loch na Keal and Loch Ba. With stunning views of Beinn Bheag and Beinn a' Ghraig from the extensive landscaped gardens, Fallow Deer, Red Deer, Owls, White-tailed Eagles and Golden Eagles have all been spotted from the garden. Otters and sea bird can be seen nearby on Loch na Keal. Courtyard Cottage is at the heart of the Isle of Mull and where you can experience the beautiful landscape, mountains, woodland and spectacular coastline during your holiday. A lovely 2 person cottage offers open plan living accommodation on the first floor with a large superking bedroom and separate shower room on the ground floor. All linen, electricity and wifi are included in the price. Courtyard Cottage is non smoking / vaping.
Availability
There are no rooms available at Courtyard Cottage, Gruline
for these dates.
Please try other dates or select a
different property
.
cottages

Max:
Courtyard Cottage sits within the courtyard of Gruline Home Farm. Centrally l... more >
Courtyard Cottage sits within the courtyard of Gruline Home Farm. Centrally located, Gruline is an excellent location for travelling to all areas of the island.
Accommodation comprises a large superking bedroom, shower room, and cosy lounge/kitchen. The cottage is fully appointed with cooker, fridge.freezer, washer/dryer, cooking utensils, crockery, linen and laundry facilities.
Rentals from Saturday to SaturdayRoom Facilities:
Cooker
Dining Area
Dishwasher
DVD Player
Electric Shaver Point
Extra Linen On Request
Fridge/Freezer
Hairdryer
Ironing Facilities
Kitchen
LCD/Plasma Television
Linen & Towels Supplied
Living Room
Microwave
Private Car Space
Satellite Television Channels
Shower Room
Tea/Coffee
Tumble Dryer
Washing Machine
Crockery & Utensils Supplied
Facilities
Hill Walking
Standing Stones (nearby)
Bicycle Rental (nearby)
Kayaking (nearby)
Munro 189 (nearby)
Cycling
Garden For Residents' Use
Hiking
Horse Riding
Luggage Storage
Shop (nearby)
Wi-Fi
Café / Restaurant (nearby)
Policies
Check In: Between 17:00 and 20:00
Check Out: Between 9:00 and 10:00
Wi-fi: Wireless internet is available and is free of charge.
Smoking: There is no smoking permitted anywhere within the property.
Parking: Parking for all guests is available on site and is free of charge.


Children: All guests must be 18 or over, no children are allowed.
Pets: Pets are not allowed.
Groups: Groups are accepted up to a maximum of 2 people. No stag and hen groups.
Average
4.9
out of 5
52 reviews
100% recommend
Reviews
24th October 2021:

Perfect holiday cottage. Spacious, clean and very well equipped. No central heating but the electric heaters worked very well.
Tips:
The cottage is in a remote location, you could not walk to a restaurant for example. Having said that the peace and tranquility is second to none.
Would Recommend: Yes
19th October 2021:

Sharon & Stuart are so welcoming, and nothing is too much trouble for them. We visit Mull annually. This is the first place we have stayed where the owners live on site; however we have found our visits really easy, as Sharon & Stuart respect our privacy, but are there should there be a problem.
Tips:
Lovely meal at the Mishdish in Tobermory. An Tobar for a light lunch & interesting Art Exhibitions. Lovely takeaway Coffee & Home Bakes from the Coffee Pot in Salen, take down to the old Pier, for a lovely tranquil break.
Would Recommend: Yes
5th October 2021:

Sharon and Stuart are a lovely couple and nothing was too much trouble. They were a mine of information on the area and along with the fabulous cottage and wonderful location made our stay a fantastic experience. It was so nice that we booked another stay for next year.
Tips:
We had nice meals at the Isle of Mull Hotel at Craignure but we manly visited the island for the wildlife. We had a great boat trip with Turus Mara to the Tresnish isles and Staffa and I would recommend a trip with Mull Charters but there are plenty of these to choose from. The Spar shop at Salen is amazing and stocks, pretty much, everything you could need.
Would Recommend: Yes
12th September 2021:

We had a wonderful stay at Courtyard Cottage. Sharon and Stuart made us feel very welcome, as did the ducks! The location is lovely as well as very convenient for exploring Mull. We were incredibly lucky and had fantastic weather during our stay in August but the cottage would also be lovely and cosy if needing to hide away from bad weather. We hope to come back!
Tips:
Highly recommend a boat trip with Turus Mara from Ulva Ferry. Headland Exploration are great for rock climbing or guided walks. You can pre-order high quality frozen meals from Lochbuie Larder and have them delivered for your arrival. Very much worth the trip down to Lochbuie as well. Heed advice about driving taking longer than you think!
Would Recommend: Yes
6th September 2021:

Lovely setting and delightful cottage. Thanks to Sharon and Stuart for making us very welcome.
Tips:
Loch Na Keal is a beautiful place. Saw 3 Otters there and Sea Eagles.
Would Recommend: Yes
22nd August 2021:

We knew that you were around should we have needed to contact you but you were never intrusive.
Tips:
Salen Hotel for friendly old-fashioned welcome and service. Food very good too! Salen Store is an Aladdin's cave not to be missed. Central location. You can walk from the house so not necessary to drive all the time.
Would Recommend: Yes
12th August 2021:

Wonderful week, beautiful cottage well-equipped felt like home from home. Everything you could possibly need.
Tips:
The bakery coffee shop in Salen also the take away one opposite both excellent.The old post office cafe at lochbuie, iona, and the Hebridean whale and dolphin trust guided walk in tobermory all stand out. Lovely walks nearby, Loch na Keal coastline and mountain backdrop absolutely breath taking. Lots of video film for my you tube channel!
Would Recommend: Yes
6th August 2021:

Courtyard Cottage is as described and very comfortable with very good facilities. Sharon and Stuart were very welcoming (from a distance!) and explained their covid arrangements. They were happy to chat in the garden and introduce their new puppy and the ducks. The garden is lovely and given some sunshine it would be a lovely place to relax. The cottage is in a good central location for exploring Mull, particularly as travelling on the narrow roads can be slow! We thoroughly enjoyed our visit and would definitely book this accommodation again, if we return to Mull.
Tips:
We enjoyed our trips to Staffa (in puffin season), Iona and Duart Castle and would recommend booking a wildlife tour, particularly if interested in birds. Re restaurants, we found it difficult to be spontaneous - due to the covid regulations, most places had to be booked in advance. We did use the 'The taste of Mull' take-away which was very good but also had to be booked in advance.
Would Recommend: Yes
30th July 2021:

Friendly and easy to approach if needed. Always on hand.
Would Recommend: Yes
30th July 2021:

This is a beautiful, well equipped cottage and the location is perfect for exploring Mull. Stuart and Sharon were the perfect hosts, despite the limitations due to Covid. The views from the garden are amazing.
Tips:
We did a boat trip to Staffa and Treshnish with Turas Mara. Brilliant trip and the puffins are amazing
Would Recommend: Yes
28th July 2021:

Would Recommend: Yes
29th June 2021:

Comfortable, well equipped cottage in a good location for exploring the island. Home baking and duck eggs an added bonus! Sharon and Stuart on hand to provide information and answer questions.
Tips:
Titus Mara sea trip to Staffa and Treshnish Isles well worth the expense. Spar in Salen useful and Co-op in Tobermory. Glenforsa Hotel has good bar meals and restaurant. Sea Eagle hide not operating this year.
Would Recommend: Yes
26th June 2021:

Wonderful cottage, in a perfect location for exploring the island. Very well equipped and comfortable accommodation. Tasty home-baking and a welcome card on arrival is a lovely touch. Very clear directions with pictures emailed in advance were very helpful, as were the clear Covid guidelines and guidance on tidying up at the end of the stay. I was so lucky to pick up someone else's cancellation.
Would Recommend: Yes
21st June 2021:

very friendly and helpful
Tips:
just enjoy the scenery
Would Recommend: Yes
6th June 2021:

Very thoughtful hosts. Welcome card & home baked Shortbread & scones on arrival.
Tips:
Would recommend macgochans in Tobermory. Good menu, reasonably priced open for meals all day. Highlights of holiday included trip to iona & Ulva. Walked to Ardmore point. Stunning beaches at Calgary bay & langamul. Also ferry from Tobermory to kilchoan on ardnamurchan peninsular well worth it. Highlight trip to sanna bay stunning beach & location. Golden eagles sighted at loch ba & kilmory beach.
Would Recommend: Yes
24th May 2021:

Lovely garden, friendly hosts.
Tips:
No restaurants used owing to Covid restrictions. Good cycle ride to Dervaig - electric bikes an advantage! Good sightings of sea eagles on Loch Tuath. Lochbuie is a charming spot with a nice walk.
Would Recommend: Yes
27th October 2020:

Would Recommend: Yes
16th October 2020:

Superb hosts ! Coped well with elderly sometimes delinquent guests!
Would Recommend: Yes
11th October 2020:

Sharon & Stewart are so friendly, but also business like. Unobtrusive, but going about, and always happy to pass the time of day, asking if all is okay. Accommodation is really home from home, with Sharon's touch of luxury. We have already booked for 2021 for our annual Mull holiday. We have visited Mull annually since 2003, and have stayed in various self catering accomodation, and Courtyard Cottage is the best yet.
Tips:
Gruline Farm is surrounded by hills, and a short drive round to huge Loch Na Keal, where with patience you will see Otters. Great walks from the Farm. The Wee Bakery in Salen for great breakfasts & home bakes. The Coffee Pot in Salen is a must each year. Calgary Bay is great for coffee & cake, and the Art Gallery is a must visit, as is the Art in the Garden. We found it really easy to social distance during the Covid 19 Pandemic, and every where is set up, and abiding by the Guidelines.
Would Recommend: Yes
27th September 2020:

Lovely clean and welcoming cottage with excellent access to any part of the island.
Would Recommend: Yes
8th September 2020:

Perfect host, always there for a chat, recommending places to see wildlife. Sharon made excellent scones and shortbread for our welcome.
Tips:
The property is located ina rural setting. Driving slowly up the lane you may see deer, both red and fallow. It is about 1 hour walking to Salen via the road. Plenty of walks, impressive views of the hills and Ben Mor just down the road. We discovered that not everything is open yet so the nearest restaurants were in Tobermory, although the Taste of Mull in Salen sell great fish and chips. If you want otters, there are plenty, you just have to have patience. Eagles, buzzards and if you go to the right place hen harrier can be found.
Would Recommend: Yes
26th September 2019:

Lovely cottage, excellent facilities, Sharon and Stuart helpful and felt like a luxury hotel.Short of nothing Loved it Thank you
Tips:
Calgary beach and art trail and cafe good.Arlenes cafe in Craignure is excellent
Would Recommend: Yes
25th July 2019:

Courtyard Cottage is a charming well-equipped cottage in a beautiful location. The owners, Sharon and Stuart, give you a very warm welcome and do their utmost to meet your needs. The rooms are spacious, the bed is huge and very comfortable and the shower is powerful. Perfect! Even the weather was kind to us.
Tips:
Look out for fallow deer in nearby fields. White-tailed sea eagles and golden eagles can be sighted anywhere on the island but for close-ups of sea eagles taking fish on Loch Na Keil, go on a trip with Mull Charters. For eating out locally, would recommend Glenforsa Hotel, bar meals and restaurant, just outside Salen. Great food and views.
Would Recommend: Yes
4th August 2018:

We are french is very badbut Courtyard Cottage is very beautiful and confortable. A fantastic Week on Mull!
Would Recommend: Yes
29th July 2018:

Sharon and Stuart were friendly and welcoming hosts. Stuart gave us ideas of where to spot the wildlife. Saw juvenile white-tailed eagles but alas the otters eluded us. The cottage was spotless with plenty of space to spread out.
Tips:
Just enjoy what Mull has to offer, spectacular scenery and wildlife. Staffa and Lunga Islands were worth a visit. Next time we would use the eagle boat trip for closer views of the white-tailed eagle.
Would Recommend: Yes
9th July 2018:

Would Recommend: Yes
26th June 2018:

Lovely welcome to a homely cottage. Helpful advice given for our ferry home. Many thanks.
Would Recommend: Yes
30th May 2018:

The perfect place to stay and explore Mull.The hosts are very friendly and helpful and have made the cottage a very relaxing place for a wonderful holiday.
Tips:
The Coffee Pot in Salen and Arlene's Coffee shop in Craignure are good ones.Croggan and Lochbuie are recommended for wonderful scenery,great places to explore as is all of the island.
Would Recommend: Yes
30th May 2018:

fabulous holiday let, one of the best we've ever stayed in
Tips:
if interested in nature the sea eagle trip by boat is a must.
Would Recommend: Yes
13th May 2018:

Excellent location for accessing all the island and it's wild life, even having deer and Hares on their land
Tips:
Early morning walk down the drive to site the deer, Hares and curlews. Keep looking up to see the eagles soaring above when you take time out on the sides of the lochs. Beautiful island
Would Recommend: Yes
4th October 2017:

Very welcoming, friendly and helpful
Would Recommend: Yes
28th September 2017:

The cottage was very clean and well equipped and the owners very helpful
Would Recommend: Yes
2nd September 2017:

Tips:
Staffa, Ardnamurchan
Would Recommend: Yes
29th August 2017:

very friendly, loved the muffins and short bread :-) thanks for pointing out the garage in Salem
Tips:
perfect location if you want to explore the whole island
Would Recommend: Yes
2nd August 2017:

Sharon and Stuart made us very welcome. Their cottage is well equipped, clean, comfortable and a good base for exploring Mull and other islands.
Tips:
Eagle watch, Turus Mara to Staffa (Fingal's Cave) and Lunga, Explore Mull all day tour with Jackie based in Salen, the Ulva ferry to visit Thomas Telford's church, to walk to Ormaig and enjoy food at The Boathouse, Ballygown restaurant just beyond Ulva ferry (home made haggis good), The Old Byre museum and films are worth seeing, In Tobermory the Mull Aquarium is small but child-friendly: Cafe Fish serves good quality food at a price.
Would Recommend: Yes
12th July 2017:

Would Recommend: Yes
15th June 2017:

Quiet, comfortable, well placed for what we wanted to do. Good to have wifi
Would Recommend: Yes
13th June 2017:

We were given a very warm welcome on arrival. Nothing was too much trouble. There was a welcoming pack of muffins and shortbread which was a very kind thought.
Tips:
Loch na Keal is a great place for spotting otters, sea eagles and seals. The Mausoleium is next door dedicated to the first Governor of New Zealand. Duart Castle is a superb place to visit with lovely grounds. Park by Knock Bridge for a peaceful walk along the short of Loch Ba.
Would Recommend: Yes
26th May 2017:

We were made most welcome and a nice touch with the home baking.Coutyard Cottage is a great venue for seeing Mull.Fantastic views from the garden.Sharon and Stuart were always willing to help with any concerns.They have provided everything you need in the cottage.
Tips:
Great coffee and cakes at the COFFEE POT in SALEN which has fantastic wildlife photographs around the walls. CALGARY BAY was stunning
Would Recommend: Yes
9th April 2017:

Everything was perfect. The cottage is very quiet and you have there everthing you need. The staff is very kind and helpful. The location is in the middle of the Island so it is really easy to get any other place you want to visit from there. Thank you very much!!.
Tips:
We would recomend you to don't miss a visit to Iona Island and stay one night there to have enought time to see the whole Island with no rush, enjoying. Also don't miss the House of Cheese close to Tobermory (delicious homemade cheese), Tobermory worksoup and shop to see how they make the soups, Tobermory pottery workshop, Ardlanish Isle of Mull weavers workshop and shop (in the south of the Island, in your way to Iona Island). The most important: stop in any place you like in your daily journey and just enjoy the nature, breath and relax with the magic sound of the birds songs and the incredible litght of the Island with any kind of weather.
Would Recommend: Yes
29th October 2016:

Had a great stay and will most definitely return. As we said before Courtyard Cottage is roomy, clean and very well equipped. The shortbread and muffins were delicious. I forgot to say that I put the extra light bulbs in the fuse cupboard in the bedroom.
Tips:
Café Fish in Tobermory has a really good menu. The Coffee Shop in Salen has some delicious cakes, do try the date and ginger. A boat trip to Staffa and Fingals cave stopping off at Iona is worth the effort. An eco tour with Jacquie and Mike(Salen) is very enjoyable and you learn a lot
Would Recommend: Yes
5th October 2016:

2 lovely welcoming hosts who were very attentive. Lovely home baking supplied. Courtyard Cottage is a perfect hideaway spot if you are looking for peace and quiet and relaxation!
Tips:
Try the Mediterranea Restaurant for lovely food and good service.
Would Recommend: Yes
14th August 2016:

It was a lovely cottage in every way. It is ideally situated for great walks and it is the last word in comfort. We really loved our stay.
Would Recommend: Yes
18th July 2016:

Would Recommend: Yes
8th May 2016:

Very thoughtfully equipped and comfortable cottage. Sharon and Stuart immensely helpful. The welcome card and goodies was a nice touch.
Tips:
we are birders and walkers so Loch Ba and Loch Na Keel both local and excellent for birds and otters. Only had one eagle free day. Iona good for a visit too. Local Spar has virtually everything!
Would Recommend: Yes
1st May 2016:

Sharon and Stuart are most welcoming and clearly wish their guests to enjoy the stay. I was most impressed when on a day out the snow came down heavily and they contacted us with up to date road reports. We were sad to leave and are already planning our return
Tips:
Coffee Pot in Salen does very good snack lunches You can while away hours at a view point for wild life and otters by turning left at drive entrance and driving about 3 miles. Suggest binoculars are essential.
Would Recommend: Yes
23rd August 2015:

Excellent location . Comfortable accomodation
Tips:
Great area for walks beautiful scenery . Nice night at -loch na Keal meals close by
Would Recommend: Yes
15th August 2015:

The cottage is centrally located and so relatively accessible to all points on the island. The accommodation was spacious and well maintained and everything was provided - right down to the corkscrew. Sharon and Stuart were very helpful when called upon but otherwise left us to ourselves. A perfect getaway.
Would Recommend: Yes
2nd August 2015:

What a fantastic cottage in an ideal location. We had a wonderful time during our stay Sharon and Stuart made us feel so welcome and a special mention goes to Albert the dog who made us and our dog Monroe feel more than at home
Tips:
The cottage is ideally placed for getting around the island and there is an abundance of wildlife right on your doorstep we saw buzzards overhead everyday and on one occasion a white tailed eagle flew past. The coffee pot in Salen is a great place for lunch or just cakes and coffee
Would Recommend: Yes
21st July 2015:

Very welcoming and helpful reception and day to day assistance as hosts. Location whilst set in a central hamlet about 2 miles from the nearest shop and fuel is ideal for travelling in all directions on the island. Very tranquil location.
Tips:
Eagle watch is amazing to see, well worth the drive along the south coast road with its spectacular scenery. Duart Castle very interesting and Tobermory is charming.
Would Recommend: Yes
6th July 2015:

Lovely cottage, very well situated, and lovely people
Would Recommend: Yes
20th May 2015:

Very friendly and helpful couple. Beautiful location.
Tips:
Best fish restaurant is Cafe Fish in Tobermory, booking essential.
Would Recommend: Yes
Owner Response:
Thank you for your kind comments and we are delighted you enjoyed your stay at the cottage. We hope to see you again on a future visit to Mull.
.