Ross of Mull Bunkrooms
Achaban
Tel: 07759615200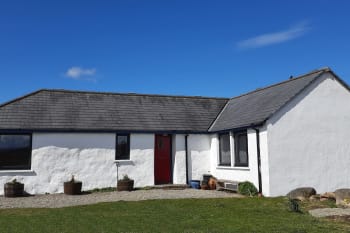 Ross of Mull Bunkrooms is an exclusive use self-catering cottage with bunk beds. It offers ideal affordable accommodation for families and small groups exploring South West Mull and Iona. There are several wonderful shell-sand beaches and excellent kayaking, walking and wildlife watching opportunities. The Bunkrooms are spacious and comfortable with two bedrooms, each sleeping four guests in very comfortable bunk beds. There are two modern bathrooms with showers, a well-equipped kitchen, a dining area and spacious sitting room with wood burning stove. Outside, the bunkrooms are located in the grounds of Achaban House, with lovely views of Loch Pottie. A range of rare birdlife is frequently seen nearby, including hen harriers and other birds of prey. Fionnphort, where the ferries to Iona depart and boat trips to Staffa and Treshnish Isles, is one mile away.
Availability
There are no rooms available at Ross of Mull Bunkrooms
for these dates.
Please try other dates or select a
different property
.
units

Max:
Private facilities

Max:
Private facilities
Room Facilities:
Bunk Beds
Crockery & Utensils Supplied
Hairdryer
Linen & Towels Supplied
Private Bathroom
WI-FI Internet Access
Facilities
self catering kitchen
Breakfast Room
Drying Facilities
Garden For Residents' Use
Laundry And Dry Clean (Charge)
Policies
Check In: Between 16:00 and 19:00
Check Out: Between 10:00 and 10:30
Wi-fi: Wireless internet is available and is free of charge.
Smoking: There is no smoking permitted anywhere within the property.
Parking: Parking for all guests is available on site and is free of charge.


Children: Children aged 3 or over are welcome.
Pets: Pets are not allowed.
Groups: Groups are accepted up to a maximum of 8 people. No stag and hen groups.
Average
4.9
out of 5
110 reviews
99% recommend
Reviews
30th March 2022:

Perfect in every way
Would Recommend: Yes
14th March 2022:

Perfect accomodation with everything needed provided. Very helpful hosts.
Would Recommend: Yes
16th February 2022:

Very comfortable and warm
Would Recommend: Yes
16th November 2021:

Would Recommend: Yes
31st October 2021:

Rachel was incredibly kind and helpful and made us feel really welcome.
Tips:
We loved the boat trips to Staffa and Iona. We alsoWe also enjoyed walks to Fidden and Erraid. The home made soup and bacon rolls in the Fionnphort ferry port cafe were a real treat!
Would Recommend: Yes
18th October 2021:

A group of 7 of us stayed for sea kayaking in the local area. The facilities were spot on and ideal for us. There is a small drying room but very effective when used with the dehumidifier. Would have no hesitation to recommend to others for a stay in the Ross of Mull area
Tips:
Fantastic sandy beaches and lots of wild life - otters, eagles
Would Recommend: Yes
28th September 2021:

Beautiful location & stunning living area with wood burning stove. The owners go above & beyond to make you feel welcome & are a font of local knowkedge.
Would Recommend: Yes
29th August 2021:

We would have loved a dishwasher and washing machine! Shavers/toothbrush charging sockets are not working
Tips:
Nothing additional to what you've already documented
Would Recommend: Yes
18th August 2021:

Matt and Rachel are the perfect hosts, friendly and approachable. Always available, but only if requested. Full of great information and stories about the area, local knowledge is always better than any guide book. If you want peace and quiet and to be surrounded by a beautiful landscape, this is the place to be. The perfect tonic to modern day life.
Tips:
A trip to Iona on the ferry is a great day out. Ferry is not expensive and takes about 10 minutes. Iona is like stepping back in time, the Abbey is a must see and the two hotels do great food. A walk over the island to the beaches on the west side for a swim followed by a pint.
Would Recommend: Yes
15th August 2021:

Excellent self catering accomodation for a large group on Mull, ideally located for boat trips to Staffa and Iona, as well as exploring the local beaches. Upon arrival, the owners provided us with local suggestions during our stay.
Tips:
A boat trip to Staffa and Iona is a must especially with the boat trip so close by.
Would Recommend: Yes
3rd August 2021:

Had a brilliant stay here - super host and a wonderful place - we will definitely come back!
Would Recommend: Yes
8th July 2021:

Could not have asked for a better hosts in a better location. The hosts were very informative and helpful. The place was absolutely spotless and very welcoming. We felt very relaxed. There was even some games and activities for the children and an excellent variety of books for the adults. The view from the light bing room window and also from the back door was stunning. Definitely the best self catering facility I've stayed at.
Tips:
At Fionnport the boat goes to Iona. The food at The local hotel on Iona is excellent and has a vegan option. The beach at Fionnport is beautiful. Another beautiful beach is at Uisken which is only a few miles away.
Would Recommend: Yes
5th July 2021:

We had a fantastic stay and would love to come again. It's a beautiful location and the bunkhouse had everything we needed - plusher than I was expecting for a bunkhouse - top notch! Thanks for being such welcoming hosts. The kids had a ball! Helen
Tips:
We stayed 4 nights and took the ferry over to swim on the north shore beaches of Iona / went pony trekking at Killiechronan and (my favourite) took a StaffaTours boat out to Staffa where we had a picnic surrounded by puffins, saw LOADS of dolphins (there and back) and walked along to Fingal's Cave.
Would Recommend: Yes
4th July 2021:

Would Recommend: Yes
30th June 2021:

A pleasing experience in every way.
Would Recommend: Yes
23rd June 2021:

Our stay for our first retreat couldn't have been better. Thank you so much to Matt & Rachel!
Would Recommend: Yes
15th June 2021:

The only reason I give a 4 for service is that the WiFi wasn't great. I talked to Matt about that and realise it was beyond their control. The setting is idyllic and the bunkhouse is tremendous. I was on Mull for work and it was a perfect base for the weekend.
Tips:
Walk around that corner of Mull: a gem of a place!
Would Recommend: Yes
8th May 2021:

Rachel and Matt host a lovely spot - this is our second visit to the Ross of Mull - the location is perfect if you want some peace and quiet and to visit the best beaches on the West coast. The accomodation is cosy and spotless. Plenty books to read if the weather keeps you indoors. The views from all around gorgeous.
Tips:
Visit the Isle of Iona - a trip to Staffa is a must-do - we went with Staffa Trips on the Iolaire - a gorgeous little wooden boat. The Creel seafood bar at the Finnephort ferry serves really tasty outdoors cuisine. I can't wait to come back and explore more.
Would Recommend: Yes
7th January 2021:

I've already recommended you to friends in Tob! Everything was great. If being really fussy a measuring jug and scales ( the ones there are broken) would have been very handy when making the kids pancakes !
Tips:
Cave was an amazing adventure for us all. The fidden loop was also great fun. A shame we couldn't get a pub meal after ! Next time !
Would Recommend: Yes
3rd October 2020:

Would Recommend: Yes
28th September 2020:

This is not your average bunkhouse! Admittedly, due to Covid rules my partner and I were lucky enough to have the place to ourselves but, setting that aside, the facilities are excellent. Spacious open plan lounge and dining area and a well-equipped kitchen, comfortable beds and modern bathroom. All spotlessly clean. A fab bookcase full of useful local guides as well as a good choice of reads... and a log burner to die for! Rachel, Matt and mum Margaret are absolutely lovely, warm and welcoming and on hand to answer any questions or offer advice. We were told to help ourselves to veg from their kitchen garden, which we took full advantage of. A real gem of a place!
Tips:
My partner and I were here for the sea kayaking. The coastal geology and beaches on this part of Mull are outstanding, and many can be reached by foot with a bit of effort. The shop in Fionnphort is well stocked and Rachel and Matt provided a list of local producers and businesses who were doing food delivery/collection. If you like mussels, a stop at the Inverlussa mussel farm on your way from Craignure is a must - just a couple of quid in the honesty box and cooked with fresh garlic and onion from the kitchen garden - yum!
Would Recommend: Yes
20th September 2020:

Excellent location, great accommodation with everything you need and helpful, friendly owners.
Would Recommend: Yes
10th September 2020:

We had a fabulous few days at the bunk house, the accommodation was to a very high standard and very comfortable. The views from House were amazing. The owners were very welcoming and were on hand if we needed anything but were not intrusive. I would definitely return.
Tips:
The surrounding area offers plenty of walks and the crossing to iona is just 10min walk away. Here you will find small local shop and fish and chip takeaway on certain days.iona is worth going more then once and there are two hotels where you can get meals. Tobermory is well worth a visit and the longer drive round through Salen to get to it offers lots of scenary.
Would Recommend: Yes
7th September 2020:

Great place to stay for some peace and quiet, well equiped cottage with stunning views. Run by Rachael and Matt, really helpful with advice on the area, a wildlife lovers paradise.
Tips:
Walks, local bar and restaurants close by all you need really. This is what you would expect from Island life and it is a different pace and helps you to relax. Will be stopping again!
Would Recommend: Yes
3rd September 2020:

friendly welcome and very flexible for special requests
Would Recommend: Yes
20th August 2020:

We thought the bunkhouse was extremely comfortable and a home from home. Perfectly situated for exploring the Ross but we definitely needed longer! We hadn't appreciated how big the island is. We'll just have to come back!
Would Recommend: Yes
4th August 2020:

Everything was perfectly organised! We loved our stay at your house. Fireplace with wood was like cherry on a cake! I would only have one suggestion: it would be good to have towels in different colours for a family, we usually get them mixed up between us
Would Recommend: Yes
28th July 2020:

Would Recommend: Yes
24th July 2020:

Tips:
Get to Staffa and Iona! Easily done in one day and magnificent! Get up early and embrace the peace and quiet.
Would Recommend: Yes
4th November 2019:

Very friendly and accommodating
Tips:
Uisken Beach
Would Recommend: Yes
19th October 2019:

Would Recommend: Yes
2nd October 2019:

The bunkhouse was great. A full kitchen available to you. If there are other people staying, it's a good opportunity to exchange tales of travelling. I would stay again.
Would Recommend: Yes
19th September 2019:

This is such a great find. Well equipped, comfortable and affordable. Combines the benefits of a hostel with the comforts of a cottage. Ideal for exploring the Ross of Mull and Iona. We'll be back!
Would Recommend: Yes
13th September 2019:

Fantastic place to stay! Excellent facilities and immaculately clean and well cared for. We only stayed for one night but would have loved to stay for longer!
Would Recommend: Yes
30th August 2019:

Would Recommend: Yes
28th August 2019:

We loved it! My children are desperate to come back...So many amazing empty beaches nearby and great wildlife spotting. Lovely facilities including loads of books and games for rainy moments!
Would Recommend: Yes
19th August 2019:

Would Recommend: Yes
12th August 2019:

Would Recommend: Yes
6th August 2019:

Warm welcome. Useful infomation on the places to visit and restaurants nearby. Would have like to stay longer in this lovely place!
Tips:
Bunkrooms are fully equiped. You have the opportunity to prepare your own meals.
Would Recommend: Yes
5th August 2019:

Would Recommend: Yes
29th July 2019:

Everything was excellent!
Tips:
We really enjoyed the walks on Iona and even Saw some dolphins!
Would Recommend: Yes
24th July 2019:

Would Recommend: Yes
27th May 2019:

Thank you for a lovely stay. Your facilities are first rate. All 3 of us thoroughly enjoyed our 2 day stay on your beautiful island and hopefully will return in the not to distant future.
Would Recommend: Yes
16th May 2019:

Wonderful hosts, spotlessly clean throughout. Great selection of books to indulge with a good kitchen. The warm welcome from Rachel was well received. All in all a great overnight stay.
Would Recommend: Yes
2nd May 2019:

We loved the place. It had everything we needed for cooking and relaxing after our hikes. Our host was helpful at all times and we even had the chance to try his freshly baked bread. We will definitely recoomend this place!
Tips:
We went to a beach that is 10min away and on our way there we shortly visited the town nearby.
Would Recommend: Yes
27th April 2019:

We had a lovely welcome from Matt and Rachel who made us feel completely at home and gave us ideas for walks in the area. It's a really lovely place to stay, very relaxing and very well equipped. We had family with us from France and they couldn't believe how nice everything was. And the beds are really comfortable!
Tips:
Perfect for going to Iona and for lovely walks in the area (such as Erraid, which is stunning). The walk to Fionnphort is only about 15-20 minutes and there's a well stocked shop which stays open until 6pm.
Would Recommend: Yes
17th April 2019:

Great place! We enjoyed the homemade bread, selection of books & shiny new bathroom. Such a comfortable & welcoming place to stay. Thank you. We'll be back.
Would Recommend: Yes
12th April 2019:

Would Recommend: Yes
19th March 2019:

Best bunkhouse I have ever stayed in
Would Recommend: Yes
21st October 2018:

Would Recommend: Yes
9th October 2018:

During an extremely wet stay, ross of Mull bunkhouse was perfect. Great amentities - particularly bathrooms, wood burning stove and the inidividual lights, plugs and usb sockets are all great wee touches. Would definitely go back
Would Recommend: Yes
8th October 2018:

Clean, modern, warm
Would Recommend: Yes
1st October 2018:

Lovely bunkhouse ran by lovely people!
Would Recommend: Yes
25th September 2018:

The layout of all the rooms and facilities is very well thought out and all very new. The hosts are exceptionally welcoming and helpful, and have really thought out how to make this place work well.
Tips:
We didn't have very good weather but the lounge is a great place to relax and read one of the hundreds of good books or play one of the many board games or jig-saws available. In good weather Iona is very near and the scenery is wonderful. We didn't eat out at all but found the local Spar shop useful for milk and other basic food.
Would Recommend: Yes
22nd September 2018:

Really enjoyed our stay at the Bunkhouse! Really great activities recommendations.
Would Recommend: Yes
6th September 2018:

A great thanks for your welcome ! The place is perfect and well equipped
Tips:
The tour of Staffa Island is great
Would Recommend: Yes
3rd September 2018:

We have not stayed in a bunkhouse before, so Ross of Mull bunkhouse has set the bar very high! Every thing we needed was there, and even two guitars and a lovely chess set. It was great NOT to have television. We were made to feel very welcome. Thank you Rachel
Tips:
We love Iona, and being so close to ferry makes it easy to spend as long as you want there. Staffa trip on "Iolaire" is well worth taking. Take away menu from "Keel Row" restaurant is good.
Would Recommend: Yes
3rd September 2018:

It was perfect, thank you Rachel!
Would Recommend: Yes
23rd August 2018:

elcomedor y la cocina son compartidos.
Tips:
fionhport es diminuto.
Would Recommend: No
17th August 2018:

We had a wonderful stay at the bunkhouse and the facilities were excellent. The warmth of Matt and Rachel's welcome made us feel at home from the moment we arrived.
Tips:
The bunkhouse would be ideal for 2 families wanting to stay together as the communal areas are fabulous yet complete privacy for each family with their own bedroom and beautiful, modern bathroom.
Would Recommend: Yes
9th August 2018:

Excellent all round. Friendly and helpful owners.
Would Recommend: Yes
4th August 2018:

We were delighted by the quality, spaciousness and thoughtfulness that is in the Bunkhouse. Brilliant value for money.
Would Recommend: Yes
1st August 2018:

A very friendly welcome clean comfortable accommodation we will be back
Would Recommend: Yes
22nd July 2018:

Very friendly, clean and ever so helpful. Thanks
Would Recommend: Yes
17th July 2018:

Very well equipped and clean. The dorms had good secure storage with new comfortable beds and usb chargers and lights with each bunk. Only 4 bunks in a room means it is not as noisy as some hostels. I didn't use it but also had a well equipped kitchen and comfortable lounge. it also had a reasonable bike shed for storage. Rachel, the owner was very helpful and friendly.
Tips:
Great location for the ferry to Iona. There is a pub and restaurant and a shop which are about 0.75miles down the road. There is also a car park to leave your car if you are taking the ferry
Would Recommend: Yes
14th July 2018:

Very comfortable. Will stay again.
Would Recommend: Yes
6th July 2018:

Top place. Old building that has been refurbished with nice clean bathrooms. Good location. Quiet.
Tips:
Great for getting to Iona. Definitely do the Fingals Cave trip from pier.
Would Recommend: Yes
4th July 2018:

Lovely clean spot, warm welcome and very good communication in advance of my stay!
Tips:
Seafood shack by the pier, go there for food, and the Keel Row is also lovely for dinner!
Would Recommend: Yes
14th June 2018:

Really helpful and knowledgeable staff in a first class location. Very tidy and clean throughout. Fantastic bunkhouse.
Tips:
Ideally suited to visit Iona and the island of Staffa. Lovely local seafood available close by. Best bunkhouse on the island with a great library.
Would Recommend: Yes
11th June 2018:

Would Recommend: Yes
7th June 2018:

Absolutely recommendable, a wonderful experience that I will certainly repeat with my family.
Tips:
Visit Iona Island.
Would Recommend: Yes
27th May 2018:

This was a lovely bunkhouse and Matt and Rachel were exceptional hosts. The bunkhouse was clean, newly renovated, and the common area offered a wonderful space for our party. There's truly nothing bad to say about the entire experience. It's a perfect stay for those travelling through Mull or visiting Iona.
Tips:
As the bunkhouse is self-catering it may be easiest to grab groceries in Oban or Craignure; the Fionnphort Spar closes around 5 or 6, but during the day it is open to stock the bunkhouse. The Keel Row in Fionnphort is also a great dinner location - closes around 8. This is perhaps obvious to those better travelled, but best to come down to this part of the Island with at least a half tank of gas as the closest gas station is about 5 miles away and closed on Sunday during the off-season.
Would Recommend: Yes
24th May 2018:

Thank you! This was a perfect choice for our family. Really comfortable beds . Spotlessly clean. Everything you could need. Lovely sitting room with games, books and guitars . We would absolutely recommend to other travelers both families and singles.
Would Recommend: Yes
19th May 2018:

One of the best bunkhouses ever !
Would Recommend: Yes
15th May 2018:

Really nice and well kept accommodation. Plenty of common space to relax in, and ample reading material. The hostess is really friendly and was happy to chat about the local area to help us with our trip.
Tips:
If eating out and the weather is good, you can get take-away food from the pub in Fionnphort and eat it on the sea shore. Look out for Hen Harriers, we saw one hunting in the neighbouring field.
Would Recommend: Yes
13th May 2018:

Would Recommend: Yes
12th May 2018:

Fabulous - could not fault. Very comfortable beds, clean, warm and cosy, very well set up with plenty fridge and cupboard space for food. Lovely bathroom. Plenty room. Would definitely stay again and strongly recommend. Our thanks for a great stay even in the awful weather.
Tips:
Great fish and chips at the little cabin. Do not miss! Shop/PO well stocked and competitively priced.
Would Recommend: Yes
2nd May 2018:

In french sorry : Accueil parfait. On est arrivé un peu en avance ( 3h) ... malgré ça accueilli avec le sourire..de bon conseil de la part de la propriétaire... le logement est très jolie , très bien entretenu... Tout était parfait, nous avons passé un Super séjour. Les enfants ne voulaient plus partir... Thank you !!!!
Tips:
Isle of iona et sea Life survey ( tour en bateau inoubliable)
Would Recommend: Yes
28th April 2018:

Would Recommend: Yes
24th March 2018:

Marvellous accommodation and friendly, helpful hosts. Warm rooms and ample equipment.
Tips:
Lots of walks (booklets etc available in local shops) and wildlife. Iona (book of walks etc available). Boat trips to Staffa and Fingal's Cave. Take binoculars and wait and watch.
Would Recommend: Yes
20th March 2018:

Excellent place. Thoroughly recommended
Tips:
Iona, Knockvologan, Fidden, Kilvickeon, Ardalanish - all great beaches. And great geology as well if you are interested in rocks
Would Recommend: Yes
27th February 2018:

Superb bunkhouse. Stayed in it last summer as well. Very well run and owners are great. Highly recommended. I'll certainly be back!
Tips:
Excellent scenery in the area, some of the finest on the west coast. I'm a geologist - there is a phenomenal variety of geology in the area - worth investigating!
Would Recommend: Yes
27th February 2018:

Wonderful hosts and fresh bread too....best bunkhouse I have ever stayed in. Ideal for Iona.
Tips:
Iona one mile. Mull itself.
Would Recommend: Yes
27th November 2017:

Very friendly hosts, an excellent place to stay any time of year in a beautiful part of the world.
Would Recommend: Yes
14th November 2017:

Such a great place, strongly recommend ! Beautiful and cozy !
Would Recommend: Yes
9th November 2017:

A really great place to stay, perfect location for visits to Iona and exploring Mull. Lovely lounge with wood burner, very modern bathroom and well equipped with kitchen facilities. Rachel and Matt were really friendly and provided towels and wood. Would definitely recommend.
Would Recommend: Yes
31st October 2017:

Mat is very nice. Very clean bathroom. Thanks!
Tips:
You can cook and there is juste one pub 15 min walk!
Would Recommend: Yes
30th October 2017:

Would Recommend: Yes
29th October 2017:

Simple bunkhouse with good beds (many opportunities to charge your devices). We got the room for ourselves since there were no other guests. The bunkhouse has two rooms with four beds each, so no huge dorms or anything (which made us very happy, because we wanted a bit more privacy than a dorm). Under the beds are steel cages to lock up your gear - remeber to bring your own lock. The living room is cozy, nicely furnished and well-stocked with books and games. The kitchen has all the necessary appliances but you need to bring your own provisions. Sanitation is modern and spotless. On top of all this the staff went above and beyond to make us feel welcome and help us out when we needed it. Overall, a great place to rest after a long day of hiking on Mull.
Tips:
If you only have a Maestro card, you can't use the cash machine in Fionnphort, but the Spar shop on Iona will give cash back. Even so, I would advise bringing plenty of cash when you visit Iona just in case, or to bring a credit card, because most businesses do have electronic paystations for creditcards. The pub (The Keel Row) is the only pub in the area but offers delicious meals, at a decent price and the service was quick and friendly.
Would Recommend: Yes
25th October 2017:

This is a luxury bunkhouse: very comfortable, warm and cared for. It's extremely good value.
Would Recommend: Yes
9th October 2017:

Our stay at the Bunkhouse was rather unplanned, but wet and cold backpackers were welcomed and put to rights with a friendly smile. Rachel is a dear, and a wonderful hostess; going beyond the necessary by providing timetables and helping us plan the next leg of our journey. The facilites were clean, tidy, and comfortable, with that bit of character that makes travelling fun. We appreciated the woodburning stove in the common area. The cost is worth what you get and I would highly recommend this Bunkhouse to any traveller!
Tips:
Be sure to check the ferry timtables and cancellations before you travel by bus! There are only a few buses in the area over the weekend so best to plan ahead.
Would Recommend: Yes
9th October 2017:

Would Recommend: Yes
7th October 2017:

Only stayed for one night but will be returning...... from Australia. Great in every area - friendly, most helpful and knowledgeable.
Tips:
The walking in the area is fabulous
Would Recommend: Yes
3rd October 2017:

A lovly Cottage,furnished with Charme. I felt at home after a couple of minutes (the carrier did a lot for this feeling).
Would Recommend: Yes
30th September 2017:

Splendid location. The bunkhouse is ideal; warm, newly refurbished, really comfortable beds. A lovely spacious lounge with heaps of books to read. Very tastefully decorated, a real pleasure to spend some time here.
Would Recommend: Yes
20th September 2017:

Great Bunkhouse, clean, homely, spacious, great helpful owner in a beautiful location.
Tips:
Trip to Iona, Brunch at the Creel Seafood Bar, Dinner at The Keel Row
Would Recommend: Yes
19th September 2017:

Fantastic and peaceful location. Very handy to Fionnphort and ferry to Iona. The owners Rachel and Matt most welcoming and informative. A home away from home for a weary New zealand traveller.. Beautiful evening light for walking with kerb side sheepand for those who indulge in photography. Will return and stay longer. Thankyou for a most pleasant stay. Also a great library of books in lounge.
Tips:
Make your stay longer and explore the walking about Fionnphort
Would Recommend: Yes
18th September 2017:

The best hostel to be stuck in when the weather turns.
Would Recommend: Yes
7th September 2017:

Tips:
Based on my two day stay at this bunk house a boat trip to Staffa and Fingal's cave is shurely a highlight. For this trip bring your binoculars with you since there is a great chance to see some seals and dolphins on the way. Walking to the nice remote beaches south of Fionnphort is also something that should not be missed. Great parts of this walks are very off road. Therefore reasonable walking boots are advisable for that trip.
Would Recommend: Yes
4th September 2017:

Very nice stay! The owners are very kind and the house very confortable and cozy, with a beautiful common area and kitchen well furnished. The wifi works very well, the house is warm and plenty of space.
Tips:
The isle is really beautiful and, also if Ross of Mull is far away from Craignure and Tobermory, is very strategical to visit Iona and Staffa. Fionport is only a few minutes walk away, to eat at the local pub or take a ferry. Also, is possible to visit several beaches or only walk along the lakes and country.
Would Recommend: Yes
31st August 2017:

Friendly and helpful staff, great location, good bunks and communal spaces. Just a shame no wifi but that seems to be a running theme in rural Scotland! :)
Would Recommend: Yes
24th August 2017:

The best bunkhouse in the whole Scotland trip. Super cozy, comfortable, clean and well appointed. The hosts were absolutely nice and helpful. The location is a dream. You live directly at a sea and it's very close to the next city and Iona. Best bunkhouse ever. We can 100% recommend this one!!!
Tips:
Iona, nice hiking routes
Would Recommend: Yes
22nd August 2017:

Would Recommend: Yes
15th August 2017:

The bunkhouse is newly opened with two rooms with 2 bunkbeds in each. The beds and bedding are really comfortable and of excellent quality, with charging ports and reading lights for each bed. The bathroom is brand new and modern (one per room). The living room and kitchen areas are clean, cosy and comfortable. The kitchen is well equiped. Matt and his partner are extremely welcoming and warm.
Tips:
We went to Staffa Island with Staffa Tours which is not to be missed. It'd be worth spending half a day or so on the lovely Isle of Iona; boats to Iona are frequent and take about 10 minutes. If you are getting to the bunkhouse without a car, then you would arrive by bus to Fionnphort and then you'll have to walk 15 minutes back up the road (dodging the sheep) towards the small loch. There is one small shop in the town that sells groceries but the selection isn't vast and closes early, so it'd be best to buy groceries in advance of your arrival. Otherwise you could eat at the pub.
Would Recommend: Yes
15th August 2017:

Lovely bunkhouse; beautiful bathroom, comfortable bunk beds and wonderful location
Tips:
Get the early ferry to Iona and have the island to yourself
Would Recommend: Yes
11th August 2017:

Beautiful place to stay. Well equiped and very comfortable. Close to the town of Fionnphort and shops. No television but that suited me just fine and a good selection of games and puzzles kept the kids occupied Fresh bread provided daily which was delicious and Rachel was a fabulous hostess
Tips:
Take the boat trip to Isle of Staffa and get dropped off on Iona on the way back. A fab day out. Shops and restaurants close early so be prepared but a really beautiful place to stay The seafood in the Creel (on the dock) is excellent
Would Recommend: Yes
27th July 2017:

I had a great stay at the Ross of Mull Bunkhouse. Matt, Rachel and Margaret were all so kind and welcoming! Thank you!
Would Recommend: Yes
10th June 2017:

Ross of Mull Bunkhouse is a lovely, great new hostel with warm, friendly, and welcoming owners. Margaret, Matt and Rachel were very friendly and helpful, and a real pleasure to chat to. The Bunkhouse has recently been refurbished and finished to a high standard. The bunkrooms are comfortable and spacious. The bathrooms are brand new and immaculate with great showers. The kitchen is well equipped with everything you need, and the communal dining/sitting room area is comfortable and homely with a great wood burning fire for any cold wet nights! There is a good selection of local information to read, as well as a range of books to borrow and board games to play. We really enjoyed our stay and would highly recommend the bunkhouse as a place to stay while visiting Mull.
Tips:
The bunkhouse is about a mile from the village of Fionnphort where there is a local Spar, nice pub and the Creel Seafood Bar which serves up delicious fresh seafood. The ferry terminal to Iona is also situated in Fionnphort, and a trip over is well worth a visit. The Ross of Mull is a beautiful area and a great place to explore surrounding beaches, wildlife and make a trip to Iona, as well as many other activities.
Would Recommend: Yes
5th June 2017:

Lovely friendly welcome. We all thought we had the best night's sleep of our lives ( mum, dad and 3 kids) in your wonderfully comfortable new beds, after a long and exhilarating day on Mull. An ideal and very cosy, well-appointed base from which to explore the Ross of Mull and Iona. Thank you!
Tips:
Go to Knockvologan beach... It's an absolute knockout!
Would Recommend: Yes
2nd June 2017:

The stay was flawless. The hosts were lovely - really warm and authentic people whom we really enjoyed chatting with, in a very open and relaxed way - beyond just The typical host-guest exchanges that we have all had! The location of The bunkhouse is superb. It is a stunning wild part of The island but within very easy walking trip to The village of Fionnphort, for shop, pub, seafood/ fish and chips shack Iona ferry, cafè, loos and beach. There are easy short trip to secluded beaches and tucked away cafes, hotels and small businesses such as weaving. The bunkhouse itself has absolutely everything you need and a bit more. The bedrooms have very comfortable beds and there is good storage space underneath and a chest of drawers and hangers. The beds have reading lights and USB connections. There are loads of books and games in the living room, which has very comfortable couches and a good dining area at the rear. The kitchen is well equipped, and has a handy utility room attached. There is a very peaceful and tranquil feel around The bunkhouse. There is a nice outlook with the lush and wild scenery and The odd house.
Tips:
The pub in The village is cosy, casual and traditional. If you want to eat there, definitely get there in good time (by 6pm) and tell them you plan to be dining. They have a slightly unusual system of not taking advance bookings, and staggering the entrants to the dining lounge from 6pm. The food was very good. Prices are probably higher then you would pay for The same fare in similar places in The central belt. Beaches nearby are great, such as Fidden. The trip to Iona is an easy one to do and is well worth It. We visited in late May in sunny weather - no midge issues at all.
Would Recommend: Yes
.