Craignure Bunkhouse
Craignure
Tel: 01680812043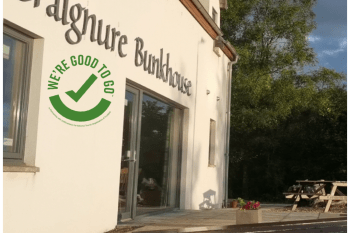 Craignure Bunkhouse built in 2014 is an independent eco-sensitively designed hostel. Consisting of 4 rooms all en-suite, two sleeping six and two sleeping four. Each room has individual lockers and each bunk has its own reading light and USB port. One bedroom is accessible for disabled access. Bed linen is included and towels can be hired at £2.00 each. Free Wi-Fi is available throughout the public areas of the bunkhouse. Self-catering shared kitchen facility is available for guest use. Located 350m from Craignure ferry and bus terminals on Isle of Mull, a 45 minute ferry crossing from Oban. Open year round. The Bunkhouse is closed daily between the hours of 10am - 4pm all guests are required to vacate the property Please e-mail:
[email protected]
or call for further information.
Availability
There are no rooms available at Craignure Bunkhouse
for these dates.
Please try other dates or select a
different property
.
units
Facilities
Library
Boot Room
Towel Hire Available
Local pub within walking distance
Swimming pool within walking distance
Shared Self-catering kitchen facility
Breakfast Room
Disabled Access
Disabled Parking
Internet Access
Laundry And Dry Clean (Charge)
Television Lounge
Policies
Check In: Between 16:00 and 19:30
Check Out: Between 6:00 and 10:00
Wi-fi: Wireless internet is available and is free of charge.
Smoking: There is no smoking permitted anywhere within the property.
Parking: Parking for all guests is available on site and is free of charge.


Children: Children of all ages are welcome.
Pets: Pets are allowed at a charge of £7.50 per day.
Groups: Groups are accepted up to a maximum of 6 people. No stag and hen groups.
Average
4.9
out of 5
40 reviews
100% recommend
Reviews
1st November 2021:

Very Friendly and helpful...
Tips:
Pub less than 100yds from front door BUT stops serving food after 19.30hrs hence recommend that u get their early to guarantee a table. BOOK ur ferry well in advance. IONA definitely worth the effort to visit and would recommend the drive just for the scenery on route to the ferry...
Would Recommend: Yes
23rd October 2021:

Lovely place, very clean, and friendly staff. Would definitely recommend. WiFi pretty poor though!
Tips:
Was there for work so no sightseeing. Beautiful island though, loads of birdlife, recommend a visit to Iona and Staffa.
Would Recommend: Yes
27th September 2021:

we have stayed in the Bunkhouse before and as usual it was a very pleasant and comfortable visit if only for a short time. We will use the Bunkhouse again.
Would Recommend: Yes
23rd September 2021:

Very clean and comfortable bunkhouse located very closely to the ferry terminal. Nice friendly staff who were welcoming. Kitchen facilities were decent.
Tips:
Can drive to Tobermory in about 30/40 minutes. Roads are mostly single lane on the island. Craignure Inn (next door) is where we spent our evenings, decent food there and good drinks selection.
Would Recommend: Yes
17th September 2021:

This is an exceptional bunkhouse, perhaps the best we have ever stayed in. Really comfortable and friendly, great decor and information. And very clear management of the space to allow for Covid regulations while ensuring guests stayed comfortable.
Would Recommend: Yes
11th September 2021:

Would Recommend: Yes
10th September 2021:

Very welcoming, comfortable and well equipped,
Tips:
It is well placed for accessing the hills of Mull
Would Recommend: Yes
7th September 2021:

Lovely, cosy, clean bunkhouse with very kind staff. I would definitely stay here again!
Tips:
Duart Castle and tearoom - very good scones : )
Would Recommend: Yes
6th September 2021:

Would Recommend: Yes
6th September 2021:

We really enjoyed our stay at the Craignure Bunkhouse. The cleanliness was super-exceptional and the owner gives attention to detail with her super organizational skills.
Would Recommend: Yes
6th September 2021:

Would Recommend: Yes
5th September 2021:

Perfect place to stop when you need to catch the early ferry. Staff very friendly and helpful.
Would Recommend: Yes
4th September 2021:

Would Recommend: Yes
30th August 2021:

Fantastic bunkhouse - great location, really clean, very friendly staff and with all the ameneties that any traveller would need.
Tips:
The pub next door is very convenient, but at this time (August 2021) Covid regulations restricted it somewhat, and the staff were incredibly slow... Food was great though, but they closed at 10pm for some reason (the barman said "because we do!")
Would Recommend: Yes
28th August 2021:

Wonderful place to stay, had a great feel to it. Great location, friendly staff. Great facilities. Me and my partner loved it
Would Recommend: Yes
28th August 2021:

Great, comfortable accommodation for family of 4. Lean and spacious living areas. Would benefit from a drying room.
Would Recommend: Yes
27th August 2021:

Very approachable and helpful people running the hostel who made us very welcome.
Would Recommend: Yes
18th August 2021:

Lovely.
Tips:
Order early at pub next door.
Would Recommend: Yes
16th August 2021:

Not all facilities available due to Covid, but that was reflected in the offer price
Would Recommend: Yes
13th August 2021:

The lady who checked us in was very helpful and friendly. Because of Covid 19 we could not use the self-catering kitchen, but we could use a table and sofas in the lounge. The location of the bunkhouse is superb with lovely sea views. Both the bathroom and the bedroom were spacious with lockers for storage and the beds were very comfortable. Highly recommended.
Tips:
The bunkhouse is very close to the ferry-port of Craignure for the boats from Oban (walking distance). Plenty of parking at the hostel. There is a restaurant next door which serves good food. A trip to the island of Iona to visit Iona Abbey is highly recommended.
Would Recommend: Yes
11th August 2021:

Beautiful bunkhouse in a great location. Claire was lovely and super helpful. Other guests seemed like legends too. The pub next door did great food at great prices. The room and bathroom were very clean, though there were no towels provided. Beds were very comfy and the communal space was fab (and nicely marked out for covid safety).
Tips:
It's very close to the Craignure ferry port which is super convenient. The pub nextdoor (Craignure Inn) did great and reasonably-priced food.
Would Recommend: Yes
10th August 2021:

Clare and Ivan are the loveliest people who run a spotless bunkhouse. We had a great couple of nights. Fully recommend the rooms and welcome. A marvellous base 👍
Would Recommend: Yes
7th August 2021:

Great place and lovely people. So glad you've been able to open with some necessary adaptations due to pandemic. We'll be back again, and again...
Would Recommend: Yes
4th August 2021:

Very nice place to stay. Only one point of feedback - with the skylight window open it was not possible to black out the room for sleeping and we couldn't find the pole to close it - otherwise all was great.
Would Recommend: Yes
31st July 2021:

Superb bunkhouse. Clean and comfortable. Highly recommend
Would Recommend: Yes
24th July 2021:

Modern clean bunkhouse. All beds have their own reading light and plug socket. Nice seating area to hang out. Spar 2 minutes walk from bunkhouse. Plenty of parking.
Tips:
Craignure Inn next door serves food but last orders for dinner were 7.30pm.
Would Recommend: Yes
22nd July 2021:

Very high quality, really comfortable beds, extremely good value. Thank you.
Would Recommend: Yes
19th July 2021:

The Craignure Bunkhouse was an excellent choice for our group. The communication between myself and the bunkhouse was first class - emails/phone calls keeping us well informed. We had a warm welcome from Claire on arrival. The bunkhouse was VERY clean and comfortable. We will certainly be recommending it.
Tips:
Enjoy Mull - lots to do and see!
Would Recommend: Yes
15th July 2021:

Fantastic place to use as a base for travelling around Mull and beyond. Everything was super clean and all information clearly explained to us. A shame kitchen was closed due to Covid, but the owners still ensured we had a pleasant and safe stay. Would highly recommend.
Would Recommend: Yes
14th July 2021:

Great place to stay, we were a young family of 4. Handy for Ferry. Pub next door! Very friendly and welcoming.
Would Recommend: Yes
14th July 2021:

Tricky to rate facilities as kitchen closed due to covid. Claire was very helpful , place was spotless and shower good
Would Recommend: Yes
13th July 2021:

Would Recommend: Yes
7th July 2021:

Highly recommend. When we arrived, the staff showed us around. Such lovely people,it just felt like I was talking to an old friend. The place is spotless. The staff take good pride in keeping the place to a very high standard of cleanliness. The recreation area gets steam cleaned every morning due to the current situation.
Tips:
It's a great place to start or finish your stay on the island. it's only a few hundred metres from the ferry to Oban. There's a restaurant and bar just next door. Happy adventures to anyone who wants to come to visit this beautiful island. I would definitely recommend this place.
Would Recommend: Yes
20th June 2021:

Nice clean rooms and en-suite. Spotless and well organised. Hosts very welcoming. Great tips on things to see and places to go. Convenient pub next door !
Tips:
Strategically a great location and base to see the whole island. Close to ferry port and near to otter sightings.
Would Recommend: Yes
17th June 2021:

Hosts were really welcoming and friendly. They provided good suggestions on where to eat out. We really enjoyed our food at the Isle of Mull Hotel!
Tips:
We got the Ferry over from Oban first thing, this was great as the roads were quiet! We travelled to Easfor waterfall, you can view the larger of the falls by walking back along the road and taking a right onto a path. We drove on from there to Calgary bay, which was lovely! There is an ice cream shops that's open from 12! Also toilets nearby before you get to car park. Enjoyed our afternoon in Tobermory, lovely little fishing village that's so picturesque ! We also hiked up Ben More (Munro) would be great to do the circular route and stop off at various natural pools in better weather. We opted for an straight up/down route due to it being soo windy on top and poor visibility.
Would Recommend: Yes
6th June 2021:

Would Recommend: Yes
4th June 2021:

I had a wonderful stay, Claire and Ivan were extremely helpful and the place has a fantastic combination of feeling relaxed and also safe and clean to the highest covid standards.
Would Recommend: Yes
17th April 2021:

Excellent place, excellent service!
Would Recommend: Yes
17th January 2021:

Would Recommend: Yes
30th November 2020:

Would Recommend: Yes
.